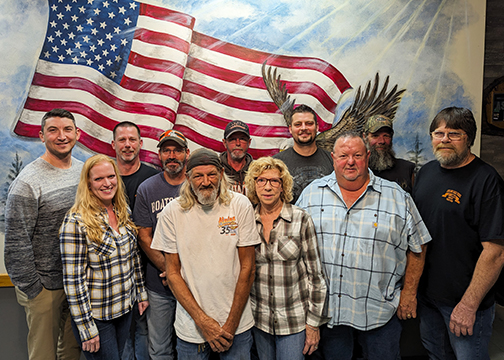 Ashland Eagles Club Supports HNCO
Ashland, OH — Hospice of North Central Ohio (HNCO) representative, Noah Gangi, presents a plaque and thanks to Steve Bates in recognition of The Fraternal Order of Ashland Eagles and the donation to HNCO for $7,600.00 to support HNCO mission.
For the past twelve years, The Eagles Club has held annual events to raise funds for HNCO including casino nights, pie auctions, food booths and poker runs. The gifts will help support HNCO's bereavement programs which include "Camp Hope" children's bereavement camp and a multitude of bereavement services provided by HNCO to families throughout their service areas. These services and programs include individual and group support groups, school groups and individual counseling.
Ralph Tomassi, HNCO Chief Development Officer stated, "HNCO has long enjoyed a cordial relationship and benefitted from the generous support of The Ashland Eagles Club. Their annual gifts are a real source of encouragement to us as we continue our mission of providing end-of-life compassionate care and bereavement services to families."
« Back to Blog